UHF Radios
The handheld UHF radios, mostly now from China are more flexible in features and channels than GMRS. They can have many channels programmed for one frequency with each of the same frequency channels utilizing a unique privacy code. Huh? Most GMRS can't do this. They're locked to FCC regs,

UHF radios have facility for external antenna connection. Ha, Magnetic mount on the refrigerator? Or, gain antenna up, up?

Almost any of these radios have 99 channels for custom programming. Some today have 200+ channels.

Most Ham Radio mobile radios from popular manufacturers in Japan are delivered with band restrictions, but the units coming out of China have no restrictions and more flexibility as mentioned above.


Midland, Battery or Crank
This one gets good reviews. Click picture.
---
Puxing PX-A6
This Puxing UHF is quiet small. Smaller than the microphones associated with mobile radios. Has external antenna connection facility. Charges from USB 5 volts. All 22 channels can be programmed quickly in just a few minutes. Ready for any UHF repeater duty.
---
Sainsonic RST-567
Requires cable and software to program.

Nice small and thin radio.

Available importer / distributor download software limits make this one not a good buy. Attaching it onto the charger is severely problematic.

RTSystems software and cable allow complete UHF frequencies programming but, RTSystem solution cost as much as two radios.

Real Range
for larger area communications, no grid power.
Requires Special Treatment
GMRS radio use in rural areas where homes are more than 500 to 1,000 yards apart, maybe many miles apart, requires an external antenna or repeater.
Required elevation may be a 5 foot tall gain antenna elevated up on ten or eighteen foot support to increase range radius to ten to fifteen miles. A radio with external antenna connection is needed here.
GMRS rules allow high power, 50 watts, on channels 8 through 22. The mobile type 12 VDC transceivers with gain antenna up high provide reliable emergency communications.
Many UHF radios today offer good encryption for real communications privacy. Rules vary by band.
GMRS and UHF handheld Radios are available from a dozen + manufacturers. Any search engine will find all of them. More sources below, scroll down. Only full power, so called 35, 36 or more mile range radios are recommended.
GMRS radios have up to 22 GMRS and FRS channels and can have 150+ different privacy codes selectable for those 22 channels. Some radios have additional channel arrangements. These are extra frequency / privacy code arrangements, not additional frequencies.

FCC rules limit channels 8 through 14 to 0.5 watt (1/2 watt). UHF custom programmed radios don't have this limit, but all are expected to follow the FCC rules. Again: "straight face". Normally, these seven channels should be avoided . Good use is discrete channel / privacy code for close adjacent neighbors.

Good sources and links below.

Veteran Watch Radio comments.

Mountain of Information
Any GMRS search will provide a mountain of information providing a mountain of confusion to the buyer. The group coordinator(s) is the best source for radio knowledge and information about what equipment to utilize for a group based on geography, geographical group size, number of members, possible linking to adjacent groups, etc.

Features Galore
Group and individual call features are available where an entire group can be called separately from other groups. Even a single group member can be contacted without disturbing the others. This is a convenience only feature; other group members can hear the conversation if they open the squelch on their radio.

Some GMRS radios have flexible call Alert functions with several different sound transmitted for emergency alert, even a siren Alert sound.

Scan Channels
Most GMRS radios will scan the 22 channels for busy activity. This feature, in conjunction with privacy codes, can detect important activity of interest.

More Flexibility
Many UHF handheld radios for commercial and Ham radio use are custom programmable for thousands of frequencies + privacy codes. They have up to several hundred channels that can be customer programmed and assigned a specific channel number. Scanning features can be programmed also.

These radios are rich in flexibility and are utilized for hobby, Ham Radio and business. They have connection for external antenna arrangements.
These UHF radios are usually superior in all function to the GMRS radio and are highly recommended.

Today these HF radios are being offered from USA companies and also direct from Hong Kong at desirable prices. These radios are not programmed. Some are only programmable with special cabling and software, not furnished.

We have found that software made available by sellers of these not easily programmed radios is feature poor and unusable with PCs.
We list below radios that we have reviewed and tested that are not easily programmed by the user.

Best programming vendor for Ham and consumer radios is RT Systems. Programming software and cable runs $40 to $50. We've had 100% success with them.
https://www.rtsystemsinc.com/
---
Some Radio Sources

BHPhoto
buytwowayradios.com
Walmart
Amazon
Google
ebay
UHF Radios, Flexibility, Benefits
radioshop888.com
Amazon UHF
ebay UHF
Manufacturers
Cobra
Midland
Motorola
Uniden





GMRS radios for Neighborhood Watch Radio use come with re-chargeable batteries and a drop-in charger. For emergency use most can utilize several "AA" or "AAA" alkaline batteries. These so called 36 mile Motorola MR350R radios have proven to be reliable and serviceable for years. Truly utilize the most effective drop-in charger, not snapped or jammed in.

Today, Motorola and many other GMRS radios have USB micro or mini features so charging can be acomplished with cellphone or smartphone charging devices and convenience.



Three basic types of radios-
The A type is UHF or GMRS, full features & full power. External antenna connection. (Greater power and range.)


The B: radios are best features and value for Neighborhood Watch Radio purposes.
(Full power, so-called 35+ mile range, good value, most popular. GMRS.


C: Less expensive GMRS, low power, toy. Not recommended.
Are homes and residents more than 500 to 1,000 yards away actually neighbors that you are aware of and know? Or, perhaps subdivision residents and prospective adjacent Neighborhood Watch Radio groups?
| | |
| --- | --- |
| | |
| 1 | NEIGHBOR UP SEARCH. Is group setup? If not, create group. |
| 2 | ESTABLISH. Group coordinator(s), you, neighbors, relatives, friends, Hams, Cops. |
| 3 | RADIO UP. GMSR or UHF Radios for group members. |
| 4 | PROMOTE. Print, publicize, email your Nextdoor.com & Neighborhood Watch Radio materials. |
| 5 | DISPLAY NOTICE. Print & display Neighborhood Watch Radio & Nextdoor.com with Signage & Placards. |
GMRS radios generally require an FCC license for operation. Yea, Uh-Hu, wink-wink. For the most part, some 95% of users do not bother with the license. The FCC does not have the resources to pay attention to users. Exception being regular heavy business and repeater use.
wikipedia.org GMRS Info-
Really Good Radio Info.
Good GMRS Info.
Data1 (Channels)
Data2 (Channels 23 to 36 ???)
Data3 (Some History)
Data4 Real Emergency


Accessories for extending range in large group.
In Neighborhood Watch Radio use the Neighborhood Watch coordinator or a Neighborhood Watch group member is your best source of information about GMRS or UHF radios. The group member or coordinator can program a pair of radios for the Neighborhood Watch group member in minutes.
The radio(s) can sit in the charger, one ready for emergency Alert use. Perhaps nothing heard for weeks except an occasional radio check or system assurance test. Perhaps the other for neighborhood Chat use anytime. Or, Chat, not on the Alert channel, with other, adjacent Neighborhood Watch Radio groups..

Not unusual for group members to have regular Chat with several other groups or coordinators. Outside or slightly elevated antennas are commonplace.
An antenna elevated 10 feet can increase effective range and coverage 5X. At 15 feet or rooftop, coverage can be 10 miles. However, for most Neighborhood Watch Radio purposes it's your neighbors that are your Neighborhood Watch group. The normal in-house radio position along with privacy code will exclude most outside interference.
The Neighborhood Watch Radio coordinator(s) have researched to select the best combination of frequencies, channels and privacy codes. If necessary to modify channels, frequencies or privacy codes for the group, the new information can be distributed by email or across a neighborhood social web site, or both.

---
UHF single and dual band and commercial radios have enhanced features: external antenna connection and can be custom programmed to discreet frequencies.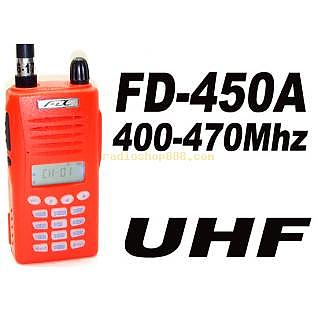 This FD-450A is a regular at
Wireless Industry Association.
Later Battery Technology
For years the battery technology has been first Nickel Cadmium, NiCad batteries from 60+ years back. Then Nickel Metal Hydride, NiMH, which today is common in these inexpensive GMRS radios. Maximum capacity of these rechargeable battery systems is 600 mAh to 700 mAh. At most about 10 hours with little transmitting.

Finally, Lithium Ion core NIMH and rechargeable alkaline AA size batteries are available in capacities of 2500 mAh to upgrade some GMRS radios. This provides a big improvement on the order of 3X to 4X operational time.
The Motorola radios, similar to the NMR350R below require little folded 11/4 inch aluminum foil strips under base of the two outside batteries folded slightly to make contact with the battery door metal charging tabs. The 3mm or wider copper desoldering braid also works for this purpose. Tape under makes sure no short to battery shell.